24/7 Emergency Care
Since 1976, Mount Laurel Animal Hospital & 24 Hour Emergency Service, a Penn Vet affiliate, has provided quality emergency medical care to pets in Mount Laurel and the Burlington County region. Dr. Christopher Torre, Dr. Robert Mankowski and the entire veterinary staff at our South Jersey emergency animal hospital are highly trained and have extensive experience treating a wide range of animal emergencies including foreign body removal, cardiac resuscitation, abdominal surgery, endoscopy, ultrasound and more. Our state-of-the-art Mount Laurel facility, experienced emergency veterinarians, and caring and compassionate staff are available 24/7/365 to help in your pet's time of need. When your beloved pet needs emergency care, visit Mount Laurel Animal Emergency Service or call (856) 234-7626. Walk-ins are always welcome. You and your pet can depend on us!
Communication With Your Veterinarian
A detailed report will be provided to your primary veterinarian should your pet be seen for emergency care or a visit with a specialist at our hospital. We encourage you to follow up with your local veterinarian for continued care, and we work hard to communicate with them so they can take over where we left off. Our life-saving equipment allows our experienced, compassionate team to assist your veterinarian with treatment day or night.
Transport
We offer transport to and from our hospital, based on availability.
When To Seek Emergency Veterinary Care
Severe vomiting or diarrhea – more than 2 episodes in a 24-hour period
Refusal to drink for 24 hours or more
Choking, difficulty breathing or nonstop coughing and gagging
Bleeding from nose, mouth, rectum, coughing up blood, or blood in urine
Severe bleeding or bleeding that doesn't stop within 5 minutes
Inability to urinate or pass feces (stool), or obvious pain associated with urinating or passing stool
Injuries to your pet's eye(s)
Seizures and/or staggering
Unconsciousness
Open wounds or lacerations
Fractured bones, severe lameness or inability to move leg(s)
Obvious signs of pain or extreme anxiety
Heat stress or heatstroke
You suspect or know your pet has eaten something poisonous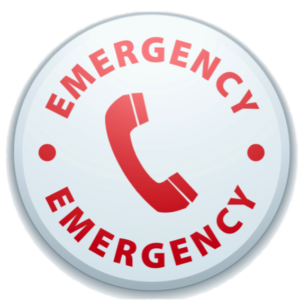 CLICK to view and download our Emergency & Specialty Care Services Brochure
Experience what it's like in our ER by reading about these cases.